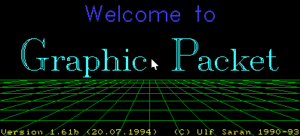 jaa dit zijn leuke dingetjes..
ax25,Wat is dat nu dat Ax25? , dat is een protocol die ik zelf jaren geleden gebruikte op de CB band.
Echter ik praat nu over cb 1995,  toen zat ik al een tijd op Packetradio.. eerst in Amsterdam 1991 en later ook in Bergen op Zoom ,na een aantal jaar is Packet op cb  een langzame dood gestorven althans hier, en dan vind je andere leuke hobby's..
vele jaren later wist ik mijn call nog en dacht ik ga eens googelen ,wie weet, en wat zag ik daar tot mijn verbazing..  mijn asci art packet logo welke ik  23 jaar geleden gemaakt hebt  vond ik nog steeds ergens 
online,bedankt Roel.
dit was gewoon leuk om mede te delen
Packetradio is communicatie met een modem en een computer(programma) via een zender, Voor de opkomst van internet bij het grotere publiek was packetradio redelijk populair. De termen die gebruikt worden op packetradio zijn altijd in het Engels.
Radioamateurs gebruiken bijvoorbeeld op de '2 meter band' soms ook packetradio om te communiceren. Zij gebruiken soms hogere snelheden als 4k8 (4800 baud) of 9k6 (9600 baud), wat ongeveer 6x zo traag is als inbellen op internet via de telefoonlijn 56k (56000 baud).
Met een simpele 40 kanalen (bakkie) kun je al packetradio bedrijven door deze aan te sluiten op een TNC modem of via de geluidskaart.
KAN 34 & 35 & 70CM kanaal 52 434.350 ---.NL1DPD. MET..TSTHOST - CQCQ DX CQCQ
EMAIL NL1DPD@WXS.NL. LOCATOR JO21DL--.  NEDERLAND. BERGEN OP ZOOM -.--.--.---..
                                                 - -.-..--...-  --  -  ³
                                          \\                           ³
                            ________||____³`\\                         ³
                        _-~~~~~~~~|~|~~~|~|  |\\                       ³
                       /          | |   | |  ||`\\                     ³
                     /_           | |   | |  ||  `\\                   ³
         ____-------(_|___________|_|___| |  ||    ||               _-~~~|
   _--~~~            |           =|       ||~~~~~~~~~~~~~~~~~~~~~~~~     |
  |]                 |            |       ||      NLD STATION NL1DPD     |
  |=   /~~~~~~~~~~\  |           /'       ||         /~~~~~~~~~~\        |
:~~~~/'  _ ----- _ `\~~~~~~~~~~~~~~~~~~~~~||~~~~~~~/'  _ ----- _ `\~~~~~~~~|
|   | _-~         ~-_|____________==______||______| _-~         ~-_| __--~
`~~~~/    _-----_    \___________________//______/-/    _-----_    \~~
    ;    / \ _ / \    .                           :    / \ _ / \    .
    |   | -((*))- |   |                           |   | -((*))- |   |
    |    \  / \  /    |                           |    \  / \  /    ,
     \    ~-----~    /                             \    ~-----~    /
      ~-_         _-~                           _---`-_         _-~
 --~~~|\~~ ----- ~\__--~~-\-^^^\___-~`~~---__--/       ~ ----- ~ -/_--~~\

meer over het fenomeen packetradio vind u
hier