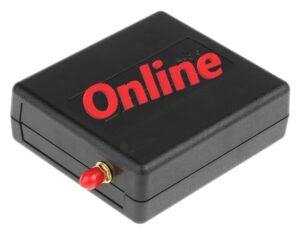 SDR remote listening has never been easier. Give it a try. Simon Brown's SDR Console is arguably the most popular software-defined radio application. It works with almost all SDR receivers including Perseus, SDRPlay, Airspy and the RTL dongles. Included with version 2 is the SDR console server. Basically, the server allows you to enable SDR remote listening in minutes. and that makes SDR Console Server  accessible from any Windows computer. To use the receiver here on location, you have to go through a few steps.. If you already use the program and know how it works. you can safely skip these steps. For those who don't use it yet try it, it really works very nicely. First of all, you need a program called Sdr Console. This is available for free. at the moment it is version 3.1  you have a version for 64 bit and a version for 32 bit.. once you have downloaded and installed it, launch the program. the program will then appear with the following message.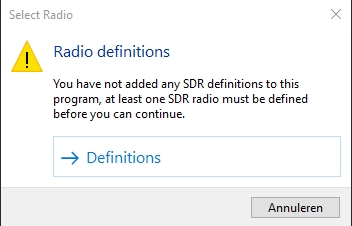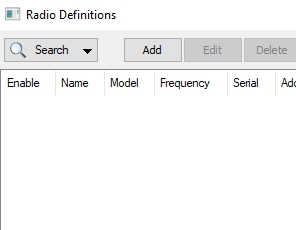 then press search.. then the menu will open and at the bottom you will see V3server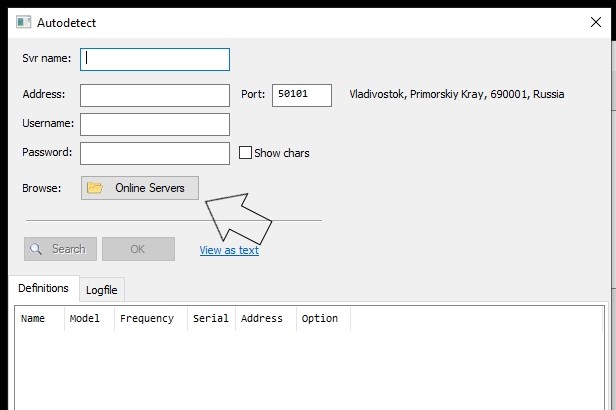 click on online servers. then the screen below will open.
however, you will then see radio receivers worldwide that you can use from your own PC.. But if you want to try mine,type in pd4dd and you should see the image below the rest speaks for itself .. turn on the noise blanker because that really makes a huge difference especially if you see pulses on a fixed pattern then it is probably electric fence. play around with the gain and you can get pretty good results
 
running an i3 mini windows lite pc at 84.26.214.139:50101 the computer is an i3 pc mini pc on 19v. with the rsp1A and Wellbrook loop on the rotor.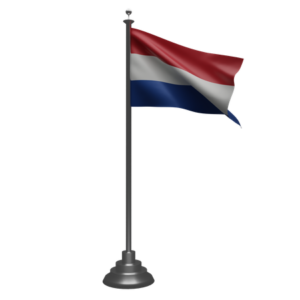 SDR-luisteren op afstand was nog nooit zo eenvoudig. Probeer het eens.
Simon Brown's SDR Console is misschien wel de meest populaire softwaregedefinieerde radiotoepassing.
Het werkt met bijna alle SDR-ontvangers inclusief Perseus, SDRPlay, Airspy en de RTL-dongles.
Inbegrepen bij versie 2 is de SDR-consoleserver.
Kortom, met de server kunt u SDR-luisteren op afstand binnen enkele minuten inschakelen.
en dat maakt SDR Console Server  toegankelijk vanaf elke Windows-computer.
Om gebruik te maken van de ontvanger hier op locatie., Moet je wel een paar stappen doornemen..
Als je het programma al gebruikt en weet hoe het werkt.  kan je deze stappen gerust overslaan.
Voor die het nog niet gebruiken probeer het, het werkt echt zeer mooi.
Allereerst heb je programma nodig genaamd Sdr Console. Deze is gratis te verkrijgen .
op dit moment is het versie 3.1   je hebt een versie voor 64 bit en een versie voor 32 bit..
als je hem hebt gedownload en geïnstalleerd, start je het programma.
het programma komt dan met het volgende melding in beeld.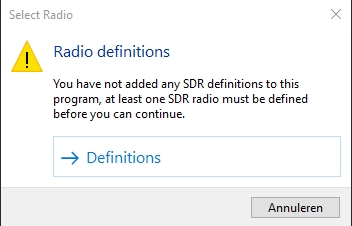 klik op definitions  dan krijg je onderstaand menu te zien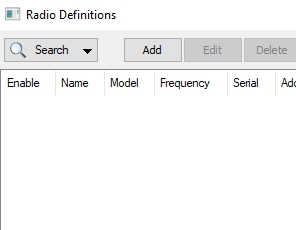 daarna druk je op search.. dan vouwt het menu open en onderaan zie je staan V3server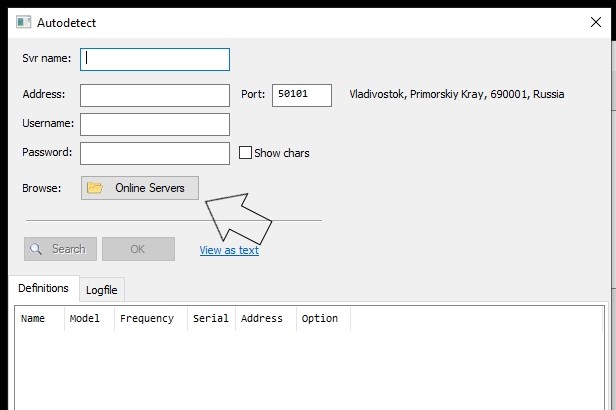 klik op online servers. dan opent zich onderstaand scherm.
echter krijg je dan wereldwijd radio ontvangers zien die je gewoon kan gebruiken vanuit je eigen pc..
Maar als je die van mij wilt proberen typ dan in pd4dd dan zie je als het goed is onderstaand afbeelding te zien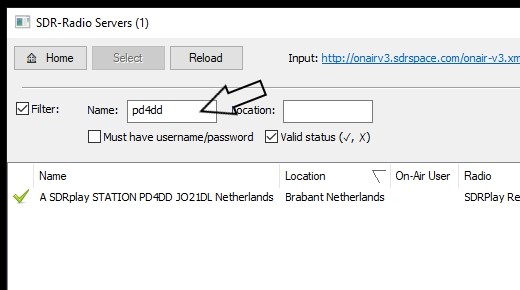 de rest spreekt voor zich.. zet wel de noise blanker aan want dat scheelt echt.. zeker als je pulsen ziet op een vast patroon dan is het waarschijnlijk schrikdraad.
speel wat met de gain dan kan je vrij goede resultaten krijgen.
Op dit moment draait er een i3 minipc met server op 84.26.214.139:50101
de computer is een I3 pc mini pc op 19v als radio gebruik ik de Sdrplay rsp1A in combinatie met de wellbrook antenne.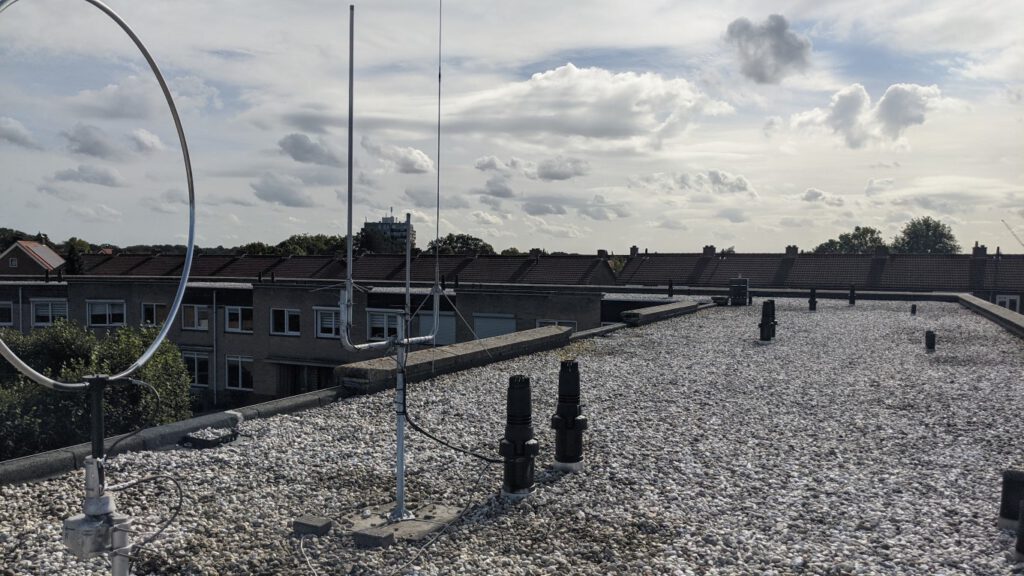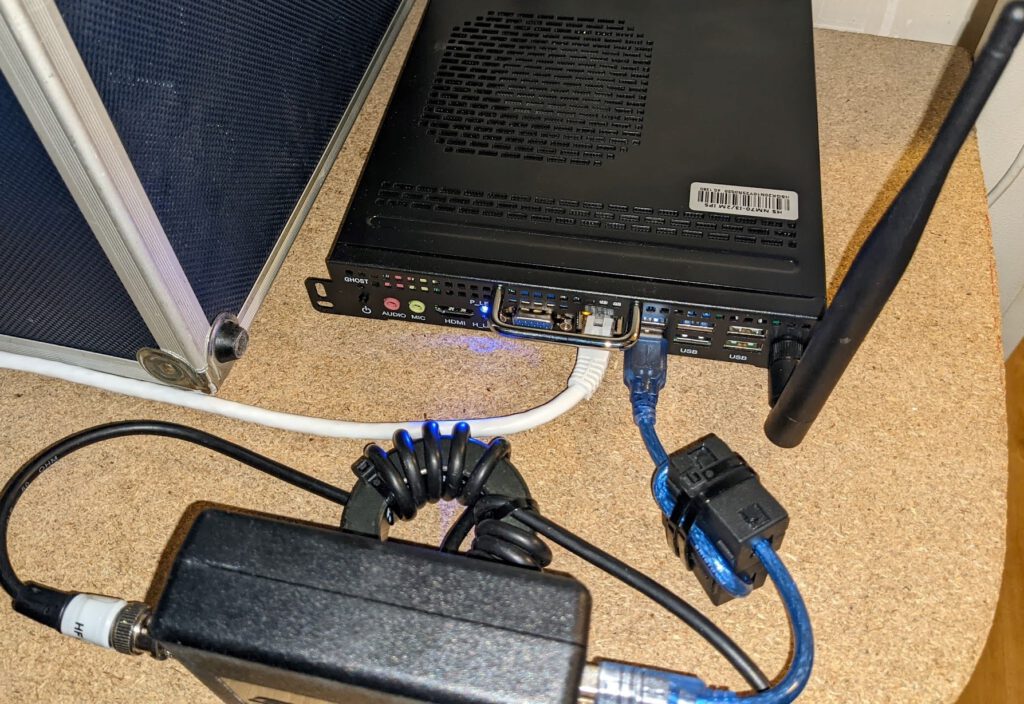 als ontvanger een SDRplay, Deze staat op een wellbrook  loop aangesloten.
de antenne staat op ongeveer 10 meter  (straatniveau) hoogte op een rotor.
ik probeer de storing van het schrikdraad uit te nullen maar het lukt niet altijd.
je kan hierop inloggen met paswoord  gast 
84.26.214.139:50101